Virtua Fighter 4 Evolution
After five years with no new Virtua Fighter game, the time had come. Virtua Fighter 4 was released to the world in 2001 on the Naomi 2 arcade hardware.
Story

Worldwide Martial Arts Championship II Tournament - tow new competitors bring two fierce new fighting styles to this year's competition in which martial arts masters from all over the world whittle through the contenders until there is only one left standing. Goh Hinogami has been trained by the Organization to take out traitors with the mastery of Judo, while Brad Burns remains undefeated in the arcade trials and impresses all with his blazing Muay Thai Kick Boxing mastery.
The Organization - widely-feared by most, this group composed of six global mega-industries is stronger than ever and continues to rule with an iron fist. They control everything from weapons development to world politics and they are always scheming in dark and mysterious ways. No one knows why just yet, but they have commanded Goh Hinogami to fight in the tournament with orders to kill.
The Quest - the path of each one of these 15 warriors is loaded with endless tests of their will, strength, and courage. When they are not battling an opponenent on a precarious stage in foul weather, they must accept the Quest Orders they are given. Once their Quest is complete, they can enter the tournament and show us why they are among the few elite fighters to qualiy for the most prestigious martial arts tournament in the world.
The fighters are ready to begin. Are you?
Gameplay
The real story
Sure, the VF gang have their own storylines, but the only story you should stick to is, "You are trying to be the best VF4: Evo player in the arcade." Or, as the manual puts it:
One year has passed since the "Worldwide Martial Arts Championship," the Virtua Fighter 4 national tournament... Now, the date has been set for a new national tournament, the "Worldwide Martial Arts Championship II..."
To qualify for the "Worldwide Martial Arts Championship II" tournament, you must fight your way through all of the arcades in the city, and make a name for yourself in the local tournaments.
The entire city stands before you in your quest to become the number one Virtua Fighter player...
And to emerge victorious from the "Worldwide Martial Arts Championship II."
Quest
Arcade mode in the game is standard fare - fight the other characters until you get your ass kicked or reach Dural. Along the way, missions have been added as a way to spice things, requiring that you reach a goal (such as knocking an opponent down several times) to get a prize.
The real challenge in the game is quest mode, where you'll travel from arcade to arcade to prove that you're at the top of the VF game. You'll first fight a small arcade full of novice players and work your way through another seven, each with increasing difficulty. The goal is to meet the requirements to enter a local tournament and win, eventually working your way up to the granddaddy of all tournaments, the Ultimate Martial Arts Championship II.
Quest Orders
Each arcade has a set of quest orders - missions to be completed throughout fights. Quest Orders usually involve completing a certain goal, such as winning by Ring Out three times or using a successful throw escape 10 times. Of course, the difficulty increases through each arcade. Although you can skip through most of the game ignoring Quest Orders, winning them will bring you money, and perhaps more importantly, new items.
Tournaments
In order to move on to a new arcade, you must place in the top three of a local tournament. But before you can do that, you'll have to meet the tournaments requirements to participate.
Event Square
The Square is home to an Underground Fighting area that has variations on the traditional Virtua Fighter game. There are fourteen different tournaments at Event Square, all with their own twist. None of these fights count towards your official record, so consider it the VF Twilight Zone.
-List Events-
Along the way, you can earn money to buy items and jazz up your character.
Unlockables
As a reward for certain achievements in the game (completing quest orders, receiving symbols, collecting orbs...), you'll receive money or an item. Items can be used to dress up and personalize your character, ranging from different colors to attaching woks and potato sacks to characters. Hair colors, eye colors, and a host of bizarre and varying items are available. If you don't receive an item directly, earned money can be use to buy them or to unlock other features in the game. Old win poses, VF1 character models, and different stages can all be unlocked.
Characters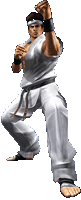 Akira Yuki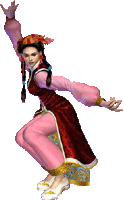 Pai Chan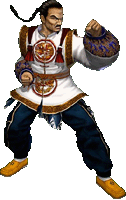 Lau Chan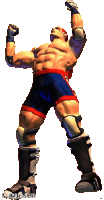 Wolf Hawkfield

Jeffrey McWild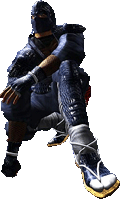 Kage-maru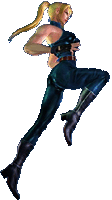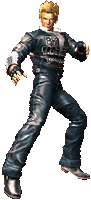 Jacky Bryant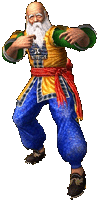 Shun-di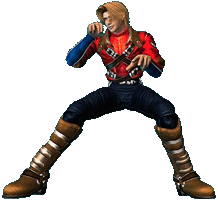 Lion Rafale
Aoi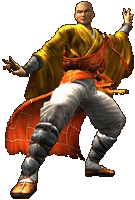 Lei Fei
Vanessa Lewis
Brad Burns
Goh
12/08/07